Even if we look only at the last 100 years or so, several nations have experimented with moving their capital cities around the globe for political or economical reasons: Brazil (1960), Nigeria (1991), Kazakhstan (1997), just to name a few. Most recently, Egypt (2023) and Jakarta (2024) have also built new cities to relieve the old capitals either from massive traffic congestions or environmental burdens. The cost of building a city can vary a lot, depending on the infrastructure and amenities that need to be put in place. In case of Egypt the estimated cost is $60B while for Jakarta "only" $32B.
In case of Kiruna (Sweden), although the expected cost is lower, the task ahead is no less daunting: relocating the city itself.
What is Kiruna known for
Kiruna is Sweden's northernmost city, but that's not the main reason why it's famous. In fact, Kiruna is known for its stunning Ice Hotel (yes, an hotel that every winter is remade entirely of ice), thrilling dog sledding adventures (or reindeers if you want that Santa feeling), epic Northern Lights (aurora borealis) sightings and its massive iron ore mines (that you can go and visit).
For over a century, Kiruna lived in symbiosis with its mine and for the first hundred years, the iron ore mining has been going on without affecting the foundation on which the city rests significantly. But in 2004, it was clear that the city is no longer unaffected by the mining operations of what is one of the Swedish state's largest and most important sources of income.
Why is the mine so important?
The Kiruna mine, which is owned by the state and operated by the mining company LKAB, has been around for almost 130 years. The mine, which is the world's largest underground mine, has the world's purest iron ore and produces daily ore equivalent to more than six Eiffel towers. LKAB is one of the Swedish state's most profitable companies and has generated close to $3B in tax revenue over the past ten years. The mine also generates a total of 50-55 thousand jobs, of which 1,800 employees live and pay taxes in Kiruna municipality.
Kiruna's Relocation: The Need for Change
The Kiruna mine, or Kirunagruvan in Swedish, is the largest underground iron-ore mine in the world. However, when extracting the ore from beneath Kiruna's surface, massive cavities were created, inching their way closer and closer to Kiruna's buildings.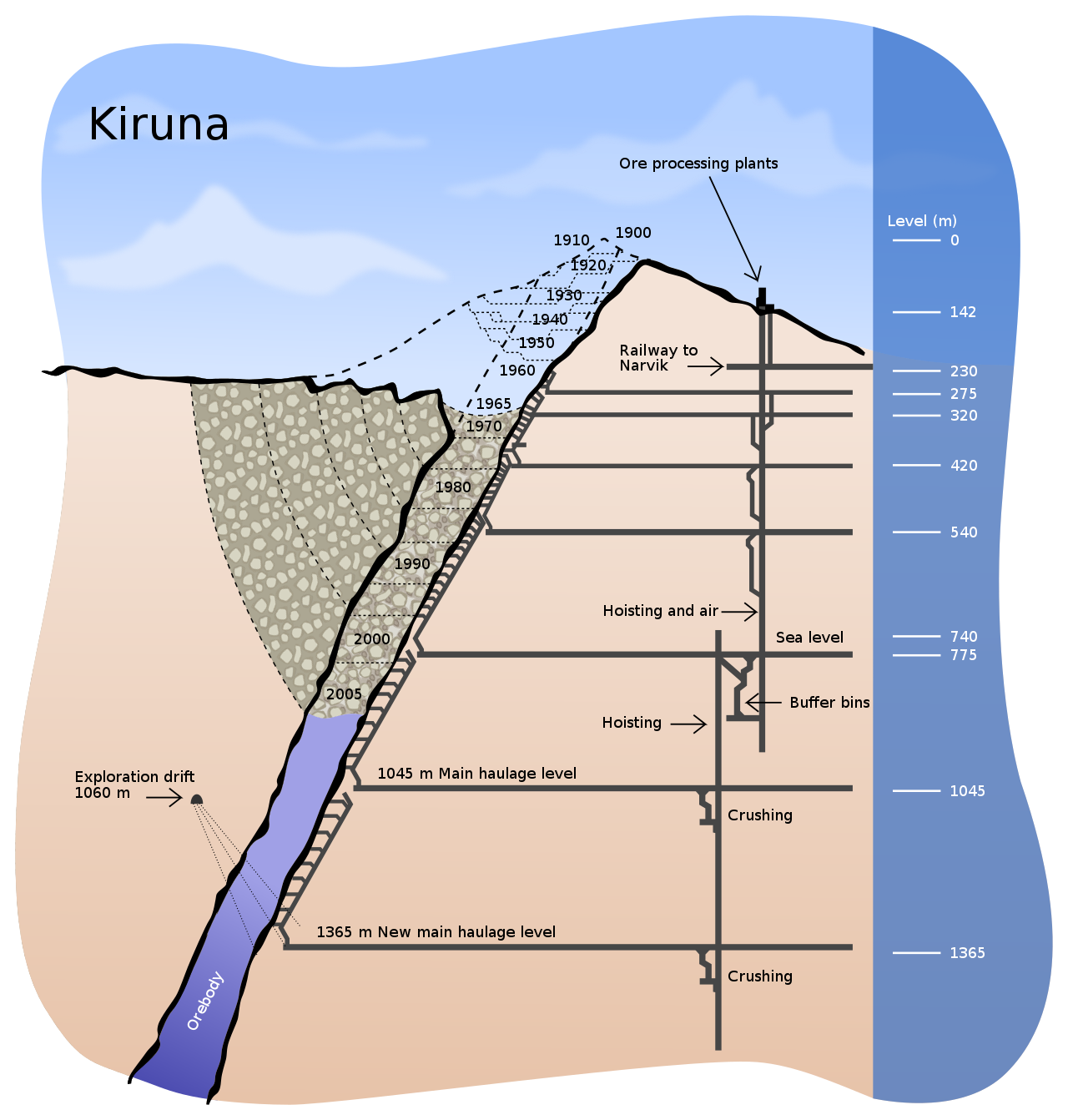 The risks became so severe that the city had no other option but to relocate itself 3km away from all the dangers and hazards caused by its own industry, before the mine damaged Kiruna's infrastructure and buildings.
The relocation project
Before LKAB is granted permission to mine ore within an area, the municipalities must change the detailed plans from residential and commercial area to industrial area. This, in turn, requires LKAB to succeed in making agreements with all property owners and businesses that currently stand in the way of mine production. One of the most important assignments for LKAB's social transformation organization is therefore to buy real estate, partly from the municipality and partly from private individuals.
The city's relocation process was carefully planned and took place over a 10-year period. Kiruna's residents had to be relocated, and an entirely new infrastructure was built for the city. This gave the municipality the opportunity to create a new, attractive society, completely from scratch.
With cultural heritage in mind, LKAB and the municipality have partnered up to ensure important structures like Kiruna Church (built 1912) remain intact. To file away memories of these buildings before they are moved, documentation projects are being taken on by both parties – from reports & photographs to 3D models that can live forever at the city library for all future generations to experience! Here is an example of how Kiruna's former town hall was documented in 360 animation: Kiruna old town hall
The Kiruna relocation project is an unprecedented example of urban transformation, and it has provided a blueprint for other cities facing similar challenges. The need for Kiruna's relocation is a stark reminder of the risks posed by open-pit mining, and it promises to set an important precedent in urban development. The entire area includes, among other things, about 3,000 homes and a total of about 450,000 square meters of public and commercial premises.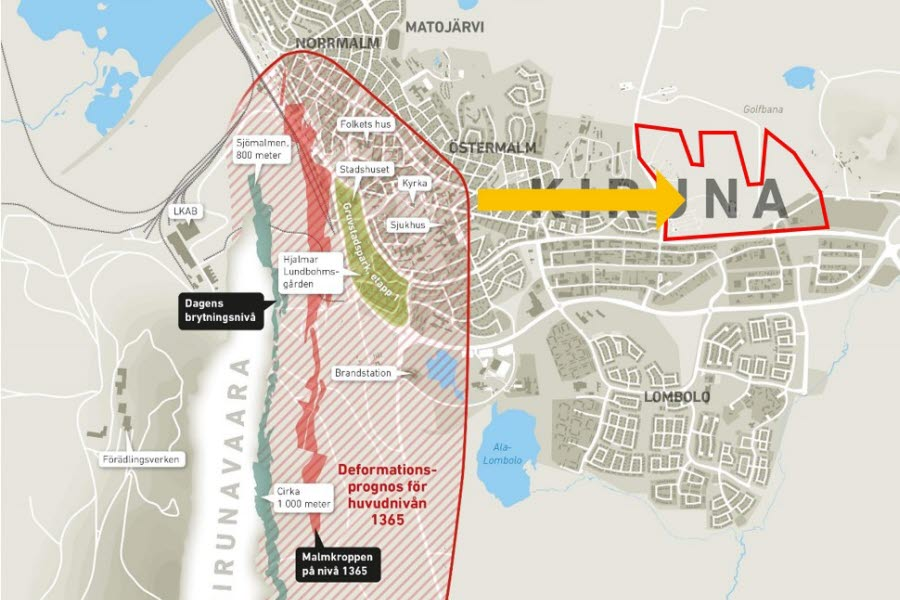 The city transformation is in full swing and is expected to be completed by 2035. Once the move is completed, the land will be transformed into park-like areas called mining town parks (Gruvstadsparker in Swedish).
How are citizens affected?
Around 6,000 people in Kiruna must move out of their homes. The Tenants' Association and the company have come together to give these tenants priority when it comes to new or existing housing along with compensations - where needed - if they end up having to rent more expensive apartments than what they're used too. Plus, rental agreements are set over 9 years so that residents can adjust without any sudden cost changes! Whether you own a condo or villa, your home's price is based on its size and condition as per market values.
Uncovering the Cost of Kiruna's Epic Move
The Swedish government funded 75 percent of the project with $750 million, while private businesses contributed the remaining 25 percent with $250 million. This funding went towards Kiruna's infrastructure and to compensate citizens whose homes were affected by the move.
The Kiruna relocation project was also aided by a $30 million grant from the European Union, and the EU has continued to provide support for Kiruna in subsequent years. Kiruna's new infrastructure includes a railway station and several other amenities that are expected to cost an additional $1 billion upon completion. This figure includes the cost of construction for Kiruna's new infrastructure, compensating the citizens for their homes and relocating Kiruna's vital buildings such as schools and hospitals.
At present, LKAB has paid out around $1.8 billion and reserved an additional $1B for the conversions since 2006.
But moving a city brings more than just economic costs - it involves emotional consequences like feeling worried, sad and nostalgic. To top things off, Kiruna has to grapple with tough decisions about preserving culturally valuable buildings
One of the issues we have to live and work on is people's grief and lack, because it arouses a lot of emotions to see their old city disappear, says Mikael Westerlund, Chief of Staff for Social Transformation, LKAB.
An example is the K-marked town hall. While ultimately deciding to demolish it for something new, they decided to keep its bell tower and move it in front of the new stunning town hall – The Crystal!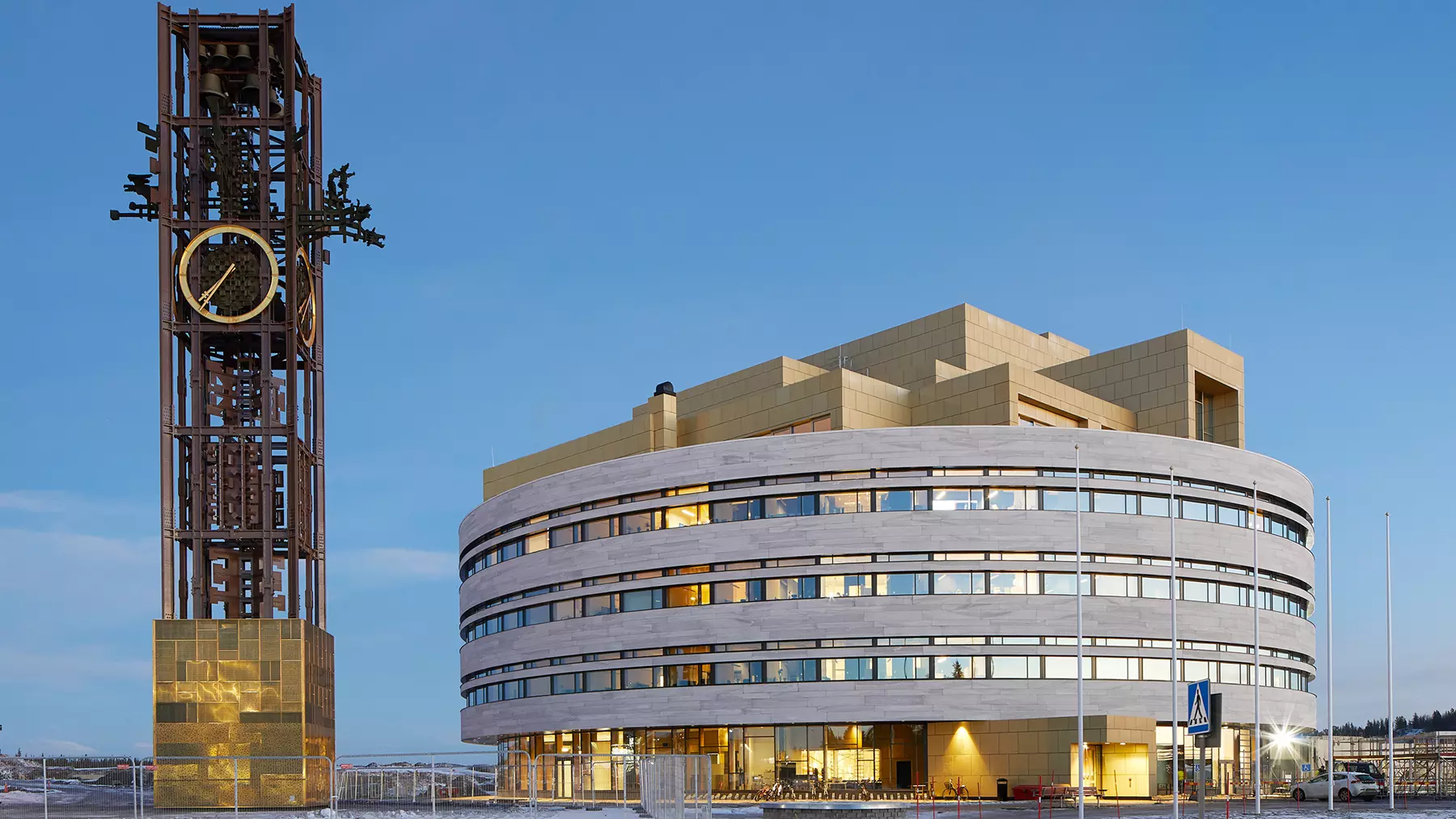 What opportunities does the urban transformation provide?
With the relocation of Kiruna, there's an amazing chance to become more sustainable. By densely-building up surface areas within the city center, it'll create better conditions for activities and daily life in general - plus you can save energy by replacing old houses with new ones! But that's not all: they're also creating "Gruvstadsparker" nearby too; these parks are designed as places where people can meet socially or take part in cultural events. The municipality even hopes to reduce operating costs by co-locating operations at their brand spanking new town hall/cultural centre combo!. At the same time, older buildings have been taken advantage of at the site of the city's new center, such as old barracks that have been converted into housing.